Ref:
Date:
Location:
Photographer:
Ref:
Date:
Location:
Photographer:
Headshot!
06/02/14
So I find myself in the studio with a photographer friend of mine who has asked if i'd do a headshot for him, of course I said yes and then felt quite nervous about it! shooting for a shooter, how critical would he be!
Anyway, we decided to shoot in raw and we would both have copies so we could have a little photoshop edit showdown and edit in our own styles. he picked grey as a background and we got stuck in with settings and lighting. The images below show the image straight from the camera and then post edit, both of which i'll go into a little more.
We set up with a beauty dish high and slightly to the right, with a large whiteboard reflector opposite to lift the shadows just a touch. Behind and to the right was a slim soft box with a grid, and off to the left a small snoot. if you dissect the pic you can see the influence of each of these lights on the subject. I shot it at 1/160 @ f2.8 @ 62mm to get a nice shallow depth of field, although, later we did switch to a nifty fifty and shot some frames at f1.8 to really abuse the shallow dof, but it did require a ND filter to compensate for the amount of light produced by the bowers heads. after lots of posing and "thats lovely darling" & "beautiful, work it!" we had some images to chose from.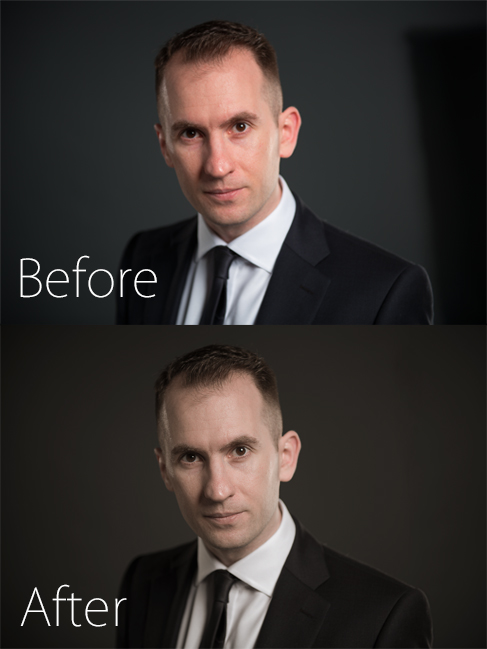 Now editing is all down to personal taste and style, me, I like a slightly desaturated, moody, edgy look. Which is all very well for my personal style, but is not always what a client is after, therefore I always have to be clear with clients as to what sort of mood and feeling they want from an image, In this case ben had his own raw files to work from so that he could edit in the way he wanted to.
I already liked the framing of the shot and just did some very minor skin touch ups using heal/clone tools. Then I did a small adjustment with a brightness/contrast layer, edited out the shadow on the rear right hand side of the image. next up was a vibrance adjustment, just to reduce it by -18 followed by a warming filter set early low at 8%. I rounded it off with the colour lookup function set to sepia with the opacity set to 44% so that it wasn't to overwhelming.
Thats just that one image done to my taste and what i felt suited it, i'm sure Ben did something completely different his end, I've yet to see his efforts.